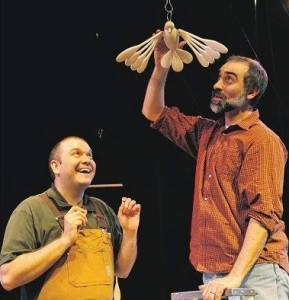 Could taking a child's life in the name of love ever be justified? Do a parent's responsibilities and a child's needs always intersect? A controversial and challenging play that explores age-old questions.
"Sher's wrenching drama…warrants many more productions and subsequent discussions."
– Iris Winston, Variety
Mourning Dove began as a commissioned radio play for CBC's Morningside first broadcast in 1996. Selected as the Canadian entry in the inaugural WorldPlay festival showcasing the best of English-language drama, it has been broadcast in the U.S., Britain, Australia, New Zealand, Hong Kong and South Africa and translated into Slovak.
Emil adapted the radio play for the stage while a playwright-in-residence at Necessary Angel Theatre. He developed the script with then artistic director Richard Rose, leading to public workshops in 2002 in Toronto and at the University of Lethbridge. A staged reading followed at the National Showcase of New Plays in Philadelphia. Several drafts later, Mourning Dove premiered at the Great Canadian Theatre Company in February 2005. It has since been staged by Theatre & Company (Kitchener), Neptune Theatre (Halifax), Pacific Theatre (Vancouver), Kill Your Television (Edmonton), The Ark Collective (Toronto), San Pedro Playhouse and Sudbury Theatre Centre.