The Triumphs and Trials of Military Families
A Staged Reading
CALL FOR PARTICIPANTS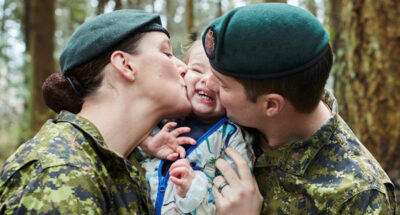 Author and playwright Emil Sher has been appointed Artist in Residence at Royal Military College for the winter term.  During his residency, Emil will offer a variety of programming to the RMC community, including writing workshops, presentations, and conversations with artists who have explored military life through their craft. 
Emil's residency will be capped by a staged reading based on interviews about military families that will be woven into a script written by playwriting students at Queen's University and performed by members of the RMC community. This type of stage play is known as verbatim or documentary theatre. The dialogue heard on stage is based on interview transcripts.
Emil is looking for one individual and two military couples who are willing to engage in an open and honest conversation about the singular experience of life in the military, as follows:
An adult whose childhood was forged in the transitory world of military families. 
A couple that has struggled and succeeded in making their relationship work.
A couple where the impact of PTSD was more than their bond could bear.
Zoom interviews with couples will take place over three sessions: one interview with each partner, and one interview with both at the same time.  Only one interview with the adult will be required.  Each interview is expected to last 45 minutes – one hour.  They will be conducted by the Queen's playwriting students, with Emil assisting in moderating the conversation.  Interest from those whose voices are not heard as often as they need to be – soldiers of colour, gay couples, people living with disabilities – is most welcome.
If you are interested in participating in this project or would like to learn more about it, please contact Emil at emil@emilsher.com by February 24.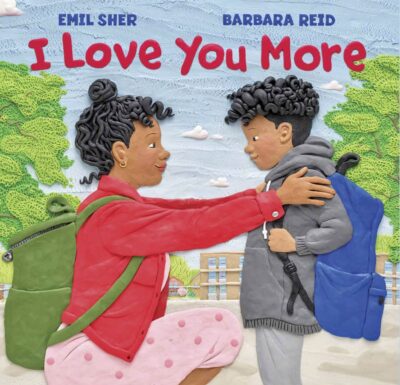 I love you more than cones love ice cream.  More than erasers love mistakes. More than syrup loves pancakes. Warning: the word play in this book can become addictive. And if that's not enough, there's the gorgeous artwork by the beloved Barbara Reid.  What began as a word game Emil first played when his daughters were young children at summer camp has become a best-selling book that has been described as "a swoon-worthy classic" and "a positive message of sharing and love that should be in every young child's library." As one parent exclaimed on Twitter: "I can't wait to buy this for the grandkids I don't have yet!"
The iconic beloved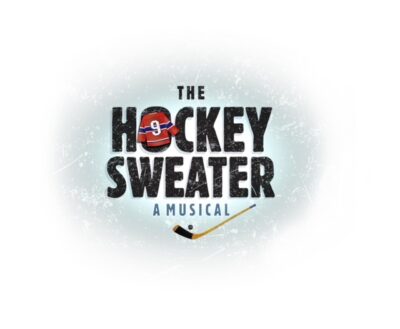 story by Roch Carrier first premiered as a musical at the Segal Centre in 2017 and was remounted at the National Arts Centre in December 2018.  Emil was the librettist and co-lyricist with the incomparable Jonathan Monro. Next up: a summer run at Winnipeg's Rainbow Stage.  Yup, this wonderful cast will be lacing up in July 202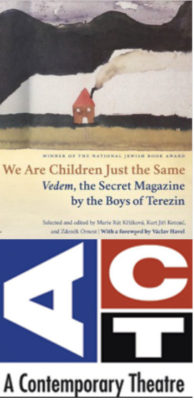 They were young Jewish boys imprisoned in Theresienstadt, a Nazi concentration camp, and in the midst of despair they created a self-governing republic and a secret magazine.  
Most of the teens were killed but Vedem, the magazine, survived.
Selected poems, interviews, profiles and memoirs were published in We Are Children Just the Same, the source material for a play Emil has been commissioned to write for ACT Theatre in Seattle.