"All the world's a stage," William Shakespeare has famously said. There's a path playwrights tread to reach that stage, and Emil offers different presentations for schools, universities, libraries…or anyone else who will have him. He brings his own gear and insights he has gained walking that path. For more information about fees, please contact Emil at emil@emilsher.com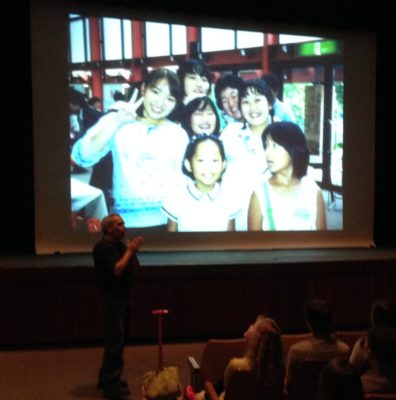 Emil has toured this presentation on his stage adaptation of Hana's Suitcase to schools in Ontario and Nova Scotia and the response has been very gratifying, not least because Karen Levine's book has struck such a deep chord with readers of all ages (though the talk is structured so that anyone who has not read the book is still very much a part of the experience: Emil walks students through the story as he describes how he adapted it).
Using images and video footage from past productions, Emil discusses the challenges and choices when the past is both honoured and dramatized.  How can sets, costumes, masks, slides and silence give voice to an unspeakable tragedy? How far into the darkness of the Holocaust do you go when young children are in the audience? In raising these kinds of questions Emil's goal is to inspire students to give thought to how stories are shaped.
"As playwright, dramaturge and chronicler of human experience, Emil engages his audience with a compassion for his subject and a passion for his craft.  In sharing his own voyage of discovery, Emil tells a story that spans continents and decades yet finds its focus in the hearts of each of us. From the experience our students explored not only the heartrending story of a life lost long ago, but the process of trying to make sense of one of our darkest tragedies through art and empathy."

                                – Robert Lutz Fine Arts Department Head,
                                   Cobequid Educational Centre, Truro, N.S.
When Words Take Flight: The Making of Mourning Dove
The stage version of Mourning Dove is based on a radio play commissioned by the CBC. The radio drama is made available to teachers to share with students ahead of time. Although the radio drama is a reference point in the presentation it is not essential that students hear it beforehand. The topic of mercy killing is enough of a starting point to generate lively classroom discussions about Robert Latimer, the Saskatchewan farmer who took the life of his severely disabled 12-year old daughter.
Emil explores how he took the threads of an actual story and wove them into a fictional world that provided a space where characters could be created from scratch, a place that is less about the hard facts of a story and more about how fiction can reveal universal truths in ways that transcend headlines.
"Emil's talk was both inspiring and motivating.  It was inspiring since it made the audience realize just how challenging the writing process can be.  Moreover, it was motivating because it clearly explained the journey that was involved in starting with an idea and ending with a play.  The staff and students both benefited from this presentation because it encouraged all of us to expand our outlook on life and to take the time to capture life's moments into words."

                                – Cindy Kuhlberg, Sudbury Secondary School
Learning to Adapt
This talk is built upon a foundation of two non-fiction books and a controversial trial about mercy killing — Hana's Suitcase by Karen Levine; Ian Brown's The Boy in the Moon; and the Robert Latimer case, which inspired Mourning Dove.
Emil briefly discusses the genesis of each adaptation and then focuses on the creative choices that come into sharp relief when a story is distilled on stage: as a storyteller, what do you preserve? What can you afford to leave out? How can you till a narrative seed from a book into something altogether different on stage? This presentation opens the door to the creative process and opens a writer's toolbox as a story is refitted for the stage.