He spent years sitting behind his school desk, lured by the landscape beyond the window. Now Emil is itching to get back inside a classroom (or library or lecture hall) with presentations designed to engage students and audiences of all ages.   He comes equipped with his own screen, projector and buckets of passion for the writing life.
For more information about fees, please contact Emil at: emil@emilsher.com
He comes equipped with his own screen, projector and buckets of passion for the writing life.
"Having Emil in our grade twelve English class was a highlight this term! I was impressed with how his engaging manner encouraged my students to openly share their insights. Several of the students lingered afterwards to speak more with Emil about his writing expertise, and offered a word of thanks for the opportunity to work with a talented writer and artist like Emil. He left my students inspired and I would highly recommend him to other schools."
— Alicia Munnings, Senior School English Teacher
Hillfield Strathallan College
"Emil's enthusiasm, passion and dedication to his work not only inspired me, it motivated me to always do better. He understood my artistic vision and helped me communicate my thoughts more clearly. He was a great listener and gave carefully considered advice. Working with him really helped me reach my end goal and vision."
— Qudsiya Jabeen, Grade 12
"Emil's wisdom challenged me to take my writing to a new depth, and explore the boundaries I had created for myself.  He changed my perspective on what is really crucial as a writer. I sincerely enjoyed his visit, and it is something I will carry with me as I progress as a writer."
— Mayah Moosajee, Grade 12
"Emil's words illuminate and eyes light up throughout the classroom as we realize that our voices are worth hearing, and are acknowledged. My dreams of becoming a writer are within reach as he expands on the several career paths that lie within the literary field. Emil encouraged me while radiating his positivity throughout the class and lending a helping hand towards me and my classmates." 
— Sabrina Spallacci, Grade 12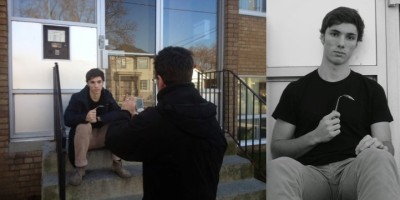 Young Man with Camera: Behind the Scenes
Young Man with Camera (published by Scholastic Canada and Arthur A. Levine Books in the U.S.) is told from the perspective of a thirteen-year old boy who has been scarred both physically (facial burns) and emotionally (the taunting spawned by the burns). With camera in hand, he navigates the world and bears witness to an assault on a homeless woman that leaves him in a moral quandary. Original, black-and-white photographs punctuate this YA novel, and these photographs are at the heart of this presentation. How the photographs shaped the text, and how the text informed the photo shoots. Why these photographs were included. How the shots were orchestrated. Which photographs didn't make the final cut, and why. A primary goal of this presentation is to inspire students to ask themselves a fundamental question about how we interpret the world: for all that I see, what goes unseen and unsaid?
"It should be a staple in English classes."
– School Library Journal
"Read Young Man with Camera and you'll never think about bullying in the same way again."
– Liz Friend, Wester Middle School, Frisco, Texas
"I am still processing this amazing book. It made me angry, it made me think, it made me smile. Every middle-school student should read this."
– Rachel Seigel, Sales & Selection Strategist, EduCan Media
"Acadia University has welcomed Emil Sher as guest speaker many times in recent years and let me state, without reservation, he is one of the finest lecturers we've ever had the pleasure to engage."
– Professor Anna Migliarisi